The Gathering, how are you preparing?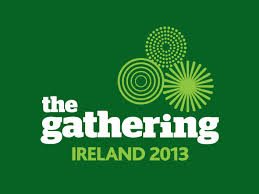 Actor Gabriel Byrne recently described The Gathering as a "scam". Is he correct, or is it an opportunity to build a bridge, allowing Ireland to reach out to their diaspora and welcome them home?
Naturally, we all will welcome home friends and relatives from abroad in 2013 and hopefully they will have a good time and enjoy traditional Irish Hospitality.
In addition, all of us in the service industry hope that it will be a lucrative year for us, not that we wish "to shake people down" of their last cent but that our economy will benefit and more importantly that they will all return home with a good story to tell of our warmth and kindness. In turn, that more people will visit our lovely island and that the spin off from The Gathering will last for many years to come.
So Gabriel Byrne was half right but he forgot that hospitality, curiosity, warmth and fun are the core of our being as Irish people.
However, we must note our good manners and bid a warm welcome to all our foreign friends and family members and a very fond farewell in 2013.
Therefore all of us in the Hospitality industry need to be trained in providing excellent Customer Care. There are only five key steps:
Warm Welcome-acknowledge and access the visitor.
Help is always at hand-go the extra mile.
Never say No!-Offer an alternative and assist people.
Make moments memorable-take the photograph, tell a story…..
A fond farewell is the key to repeat business and your reputation!
It is so easy and it does come naturally to us as a nation. Customer Care Training will enhance our social and listening skills, ensuring that our visitors are nor long lost cousins but valued ambassadors of our country and tourist industry.
Interactive Training in Customer Care is available to all through Mary Daly Associates. Please see our website for forthcoming courses or phone for details. http://marydaly.ie/courses/
087 9198168
Tags: Christmas Dinner, Career Enhancement, New Opportunities, Business Planning, Customer Complaints, Customer Service