Bar and Restaurant Skills Training
The tourism season is in full swing and as we all know this is the busiest time of the year for the hospitality industry.  I am delighted to announce that we recently completed a fantastic bar and restaurant skills training course in Kerry.  This course was specific for job seekers looking for a career in the Hospitality and Tourism Sector.
The bar and restaurant skills training incorporates a placement as well as practical training.
What made this course very unique was not just the work placement provided but also the practical side to the training.  All of our trainers incorporated the practical side to the work, whether it was showing trainees how to pull a pint, to being able to recommend a type of wine to go with your dish, to filling in records for HACCP in the kitchen.  Our trainers received a huge thumbs up from the candidates – they loved the hands on and practical approach.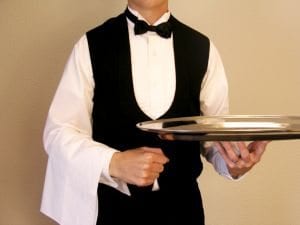 All of the candidates were placed on work experience, organised either by Mary Daly & Associates or the candidates themselves.  On speaking with them during their placements they commented on how their confidence because of the customer service training.  One of the candidates is looking at setting up her own food business with the knowledge and skills gained from the HACCP, Food Safety and Allergen Awareness course.  Another candidate said he now has the confidence to speak to tourists about what his local area has to offer since doing the Tourist Trail and Local Knowledge aspect of the course.
But the most important aspect and the main objective for these candidates was to have the competence to re-enter the workforce as valuable employees with a love of food, hospitality and the local area.  On speaking with the trainees during their placements, the majority had secured employment with their chosen placements for the busy tourism season.
The course covers a wide area of knowledge
Just to give you a taste for the different areas of the course:  For those interested in working in the kitchen the course covers Level 2 Food Safety & HACCP Training, Allergen Awareness and the importance of Diet & Nutrition.
For those interested in bar work the course covers everything from the dispensing of drinks to knowing your beverages, not to mention the legislation which is required for bar work.
For those who would like to work in the restaurant side to hospitality it covers everything from laying a table to essentials to details.  Not forgetting the Tourist Trial and Local Knowledge section so you can impress with your vast knowledge of your area and of course customer service and communication skills.
All the successful candidates received valuable certification along with greater knowledge and practical skills. They are now job fit and very employable anywhere!
Due to the success of this course we are looking at running more in the coming few months.
For more information call us in the office on 021 435 5917.
Tags: HACCP, Training, Customer Complaints, Customer Service, Food, Bar, Cafe, Restaurant