Some more info on our Food and Nutrition in a Care Home Course
As interest and demand for our Food and Nutrition in the Care Home course is growing I decided I would give a bit more background to the course and how and why we developed it. HIQA selected, last Autumn, one of our major clients to conduct a themed Food and Nutrition audit. HIQA forwarded a copy of their audit checklist and requested a copy of the Nutritional Policy developed by the Centre.
An effective  and successful Nutritional Care Policy requires a team approach that includes Nurses, Carers and Caterers.
With the checklist in hand and other information provided by HIQA, we developed a bespoke Training Course to fit the exact requirements of HIQA, including the ten points that need to be included in a Nutritional Policy in a Residential Care Setting. We delivered our unique and interactive course to all staff, including Nurses, Carers and Caterers over a half-day, emphasizing that Food and Nutrition is a complete team responsibility. We presented each class with Menu and Presentation ideas that were easy to achieve. We are pleased to state that the inspection was a tremendous success and we have since delivered the same course to many more Care Homes across the country.
Course Content:
The HIQA Standard on Meals and Mealtimes.
What is Healthy Eating?
Changes in the body with ageing.
Healthy eating plan for older adults.
Nutrients essential in the elderly.
Malnutrition.
A good Nutritional Care Policy in a Care Home.

 

MUST- 5 steps to MUST & a case study.
The guidelines to the management of malnutrition-Food First Approach, Get More In, Ordinary Intake v Adapted Intake.
Hydration/Fluids.
Topics covered in the development of a good nutritional policy include:
Safe Food.

Multi-Disciplinary approach.

Training in Nutritional Care

Nutritional assessment on admission.

Nutritional Care Plan for each individual.

Ongoing evaluation.

Protected Meal Times, Eating Environment & Assistance v Feeding.

Food availability.

Presentation.

Resident Center Approach.
For more information call us in the office on 021 435 5917 or email info@marydaly.ie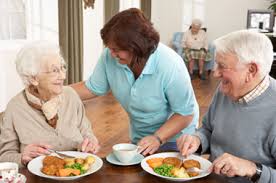 Tags: Food, HIQA, Nutrition, Nutritional policy