Food Safety & Hygiene Top of Head Chef Greg Murphy's Agenda: Guest Blog
As a busy chef, working both in our family restaurant and catering company, food safety & hygiene is an imperative part of my daily life. Clear food safety and hygiene guidelines need to be in place to ensure that paying customers are not only receiving delicious food, but that the food they are eating is 100% safe. It is essential that all my staff are up to date and well informed on the correct food safety procedures.
These food safety and hygiene procedures need to be consistent, especially when our team are out of the restaurant. We are often working from unfamiliar kitchens or a purpose built premises. It is critical that the same standards are maintained regardless of the venue. Last month, our team catered for over 1,000 people at The Rose of Tralee Ball, and food safety standards were top of the agenda from start to finish. The feedback from the meal was exceptional.
As a head chef, I do believe that the key to maintaining a high standard of food hygiene and safety is with sufficient and frequent training. Staff need to be correctly informed of all guidelines and procedures and understand their importance at all times. We ensure that all chef's are trained to a minimum of Level 2, on the Food Safety Authority of Ireland's guidelines. In addition to this we ensure that all service staff receive basic training every 2 years.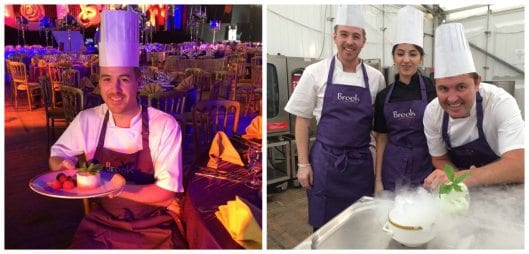 As with any event, planning is key. I spend a number of months liaising with service providers to ensure that the event will have sufficient structure and facilities so that I can maintain the highest of food safety standards. This would include the supply of a suitable structure, potable water, serviced refrigeration, adequate work-space to facilitate safe work-flow of food. Not to mention the provision of serviced, maintained cooking equipment, management of waste by a licensced contractor and adequate ventilation!
I ensure that I receive the highest quality produce by liaising with suppliers, and ensure that these foods reach the venue in optimium condition by checking all deliveries to ensure they meet our standards. Food Safety standards are continually monitored and checked once foods has been delivered. Our team ensure's that refrigeration, cooking, cooling and reheating temperatures are checked and documented throughout the event. Hygiene is carefully managed, and we operate a 'clean as you go' policy at all times, even during the busiest of services.
Within our business, we consider food safety to be a team effort. We work with a team of experienced, trained staff who are fully briefed in advance of every event. We only purchase our food from a list of approved suppliers. We closely monitor and manage standards throughout the event to ensure that the customer is served the safest food. This is why training, communication and good teamwork are key to maintaining the highest of standards.
Tags: Training, chef, cooking equipment, food safety & hygiene, Greg Murphy, quality produce, service providers, suppliers, The Brook Inn