Food Safety Awards
Highest Food Safety Standards Underpin the Growth of the Irish Agrifood Industry
Shane McEntee TD, Minister of State at the Department of Agriculture, Food and the Marine addressed the inaugural Food Safety Professional Associations Awards presentation ceremony in Dublin. The Minister pointed out that Agriculture and the agri food sector is the largest indigenous industry in Ireland and that the importance of the sector has been well highlighted recently, especially by the visit of the Vice President of China.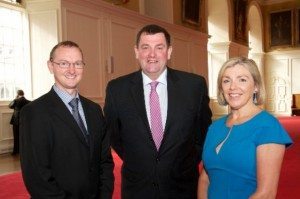 It has been pointed out that the continued success of the industry depends ultimately on meeting consumer demands an absolute prerequisite in this respect is food safety. Food safety is the foundation on which the industry can build other positive attributes such as the environmental sustainability and animal welfare friendly production. Irish food products already have an excellent reputation which we can continue to develop to maximise returns from a competitive market place. Food safety rests primarily with food business operators and commended the Food Safety Professional Association in introducing these new awards designed as they are to encourage food businesses to reach for and maintain high standards of food safety.
Food Safety is a legal and a moral requirement however it now underpins our growth & development. Many argued in the past that HACCP was a hindrance to the development of a small business but we know better now post the dioxin scare or for that matter the e coli outbreak earlier this year. As a nation of producers of fine food we must be quality assured and have full confidence in the food we produce and sell.
The large retailing chains actively encourage local producers to sell to them provided that they can assure the safety of their food product; hence it is vitally important that food producers are aware of the principles of food safety management.
Many government bodies, in particular, the Food Safety Authority of Ireland offer support to Food Producers. Professional support is available from Mary Daly and Associates, a nationwide support network, which offers certified hygiene training & HACCP advice.
Tags: Food Safety Awards