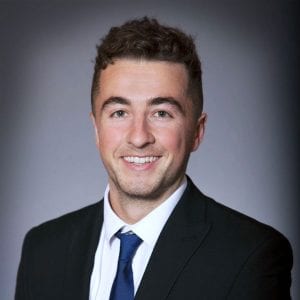 David Cunniffe
Food Safety Consultant & Trainer - Midlands/West of Ireland
David Cunniffe joined The Food Safety Company in October 2019 and supports our clients in Connacht, Limerick, Clare, Tipperary, Westmeath, Offaly and Donegal.
David has a diverse educational background. A graduate of a Masters (MSc) Food, Nutrition and Health in University College Dublin achieving a 3.81 GPA. David also attended the National University of Galway where he obtained a Bachelors (BSc) Honours Degree in Energy Systems Engineering.
David holds accreditation, as a Registered Associate Nutritionist (ANutr), with the Association of Nutrition (AfN) in the UK and is currently one of 110 people registered in the Republic of Ireland. AfN governs the UK Voluntary Register of Nutritionists (UKVRN) to distinguish nutrition practitioners who meet rigorously applied training, competence and professional practice criteria.
David is a certified QQI level 6 Auditor and has a range of experience in public health, corporate health, and the meat industry in Ireland. He has recently commenced a Certificate in Occupational Health and Safety. David supports our clients in the implementation of HACCP, Health & Safety and Food Safety and conducts regular hygiene audits.
You can contact David by email on david@thefoodsafetycompany.ie